Mother's Day DIY Gift
For some reason, when I'm out thrifting, I'm often drawn to cute bottles or ceramic figurines especially since there are so many! Seems easy enough to grab a vase, head straight to the florist shop for a dozen flowers, and call it a day, but these vases and bottles will be more meaningful with a touch of you in them. Here is a Mother's Day DIY gift made with love that can last forever, and with items found at Goodwill!
Vases
The store has your regular vases, milk bottles, jars, even storage containers and teapots that will be great to repurpose. With so many options, why not grab a variety? Think about how to upgrade the plain clear vases or ceramics with previous hand-painted features. One of the easiest ways to make thrifted items with very different styles look brand new is through one uniting color. So, a couple of them got a paint job.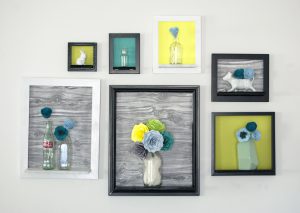 Touch-Up
The cute little bunny had hand-painted features, so to change it up, it was coated with a glossy white finish. A little spray paint made for an easy upgrade! If you prefer to not paint them all, no worries! The clear vases stuffed with tissue paper are also a great touch, especially if you don't want to permanently change them or have no paint around. You could use tissue paper with your loved ones' favorite color too! After that, complementary flowers would unite the rest.
Color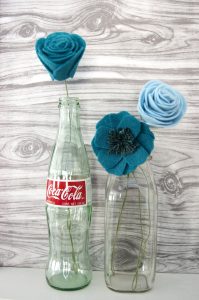 If the integrity of your pieces would diminish with a paint job, leaving them as it works too! Trick the eye into seeing some color cohesion with a couple of dominant colors.
Felt Flower DIY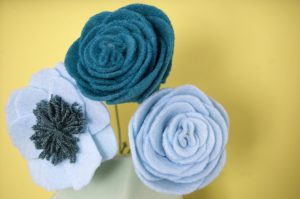 Once you're ready to start placing some felt flowers on your touch-up vases, here is what you will need to make them!
Felt pages with colors of your choice
Scissors
Ruler
Glue Sticks
Glue Gun
Green wire stems
Here's how…
I always find the most unique pieces when I shop at Goodwill®, but that's just one of the perks. In 2019, Goodwill North Central Texas touched the lives of 9,355 people within their programs, so I love supporting the organization for that reason, too. Now that the vases are complete, it's time to gift it! Keep an eye out next time you are out thrifting. You will be able to imagine how to integrate pieces into so much more and something special! Try out even more DIY and repurpose ideas from our boards on Pinterest!